Seeing that I originally interpreted the lyrics to Wes Walker's "Jordan Belfort" as "I been getting dirty money Jordan Belfort / Stacking penny stocks while I'm flipping these burgs," I thought it would be appropriate to write about National Cheeseburger Day. Mark September 18th on your calendar, people, this is not a drill.
This greasy and delicious, albeit messy holiday deserves our utmost respect and devotion to all things cheese and meat. My dad's birthday is on July 4th, so I began to love red, white and blue at a very early age. My affinity for patriotism sprouted around the same time a perfectly charred burger, oozing melted cheese atop a toasted sesame bun throne, entered my mouth. As evidenced by cultural icons Nicki Minaj and Beyoncé, cheeseburgers can be a girl's best friend.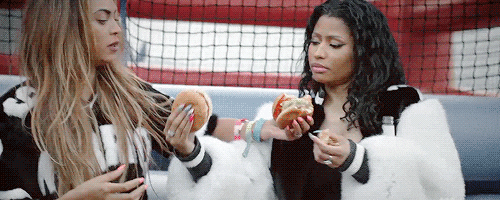 You see, friendship is like a burger. It's rare. And that's how I like it.
One of my best friends is a vegetarian. When I asked her about National Cheeseburger Day, she said she'd still participate in the festivities sans patty. As in she's going to ask, "may I please have a cheeseburger without the burger?" At first, this sounded pretty crazy to me. But in reality, she's simply asking for a grilled cheese, which is also a respectable alternative to a cheeseburger.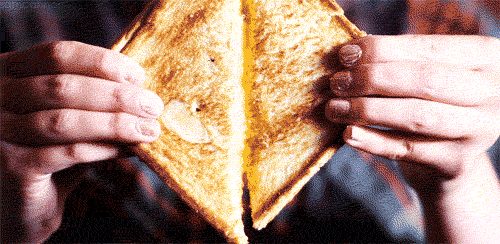 For dessert she could eat a bunch of those Spongebob Gummy Krabby Patties which exude wonderful memories of Halloween sugar highs.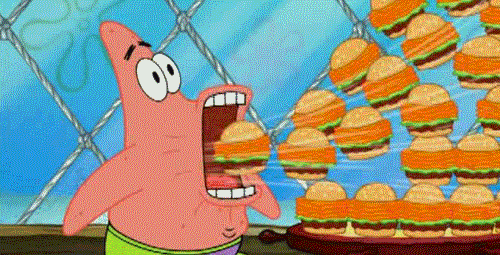 But for the real omnivore like myself, I can't be satisfied with candy replicas of the great American barbecue burger. Personally, I enjoy a runny egg with mounds of crispy bacon on top of my cheeseburger. It's both a breakfast sandwich and a burger at the same time. What else could you possibly want in life?
All I want is five (attractive) guys, unlimited burgers, and so many fries I could drown in a sea of carbs and ketchup. I want a frosty beverage to shake my shack. And I want a restaurant so fast that I'm in-n-out in the blink of an eye. Is that too much to ask for? America doesn't think so.
Life is like a cheeseburger. It's what you make it. So let's make it rock.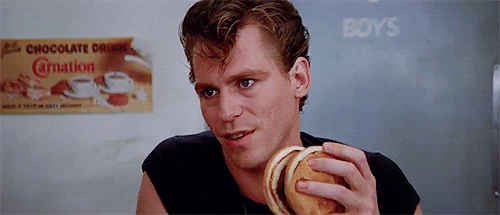 Don't worry about the grease, just live in the moment. We're all savages. Embrace the facts and ask the waiter, "I'm not very hungry; just gimme a double Polar Burger wit' everything and a cherry soda wit' chocolate ice cream."
If Danny Zuko did it, so can you. Enjoy the cheesy festivities!
Image via caileymarie